200-year old István Cellar and National Winemuseum
#ARTICLE_DATE_LETREHOZVA#: 21 February 2013 | Created: 17 March 2015
The cellar system has four branches of 33-45 m length, all together 255 meters. The cellar is 14 meters deep under Hotel Korona and in its two heated restaurant branches 160 people can be seated. Guests can taste delights of gastronomy, good quality wines in their authentic surroundings, accompanied with gipsy music and folk programme.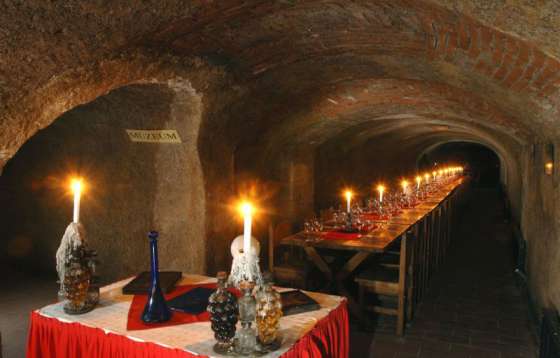 In Vincellér wine bar and in the restaurant of the cellar unforgettable gastronomic dinner programmes are organised by harmonic matching of dishes and wines.
In the WINE SANCTUARY branch WINES OF THE HOUSE are aged specially bottled for the hotel originating from the wineries of Béla Vincze, Tibor Gál and Vilmos Thummerer. Besides them quality wine selection of other well-known winemakers can also be foun here, like wines of Lajos Gál, Ferenc Tóth, Egervin, etc. Basic wine tasing are made up of their wines.
In NATIONAL WINEMUSEUM branch besides the display of old tools of viniculture, more than 500 different bottled wines from the 22 wine regions of Hungary and museal wines stored in winesafes can also be seen.
Contact:
3300 Eger, Tündérpart str. 5. | Tel.:36/313-670 | Email: info@koronahotel.hu | www.koronahotel.hu
< back