Archbishopric Collection/ Archbishop's palace
#ARTICLE_DATE_LETREHOZVA#: 21 February 2013 | Created: 13 April 2016
Archbishop's palace, residence of the bishops and later archbishops of Eger since 1740, can be found at the beginning of Széchenyi street.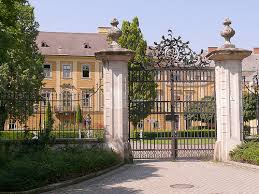 It is the home of the exhibition of Archbishopric Collection storing valuable church treasures. The objects displayed are outstanding masterpieces of 18th and 19th c. gold and silversmith- and textile arts:
tabernaculums, bowls, mass clothes, mantles. Objects connected to Gábor Endrődy, bishop of Eger, having been presented to him by Maria Teresa, are especially valuable. The mantle, gift from the queen, is famous for having been the coronation mantel of Maria Teresa.
Contact: 3300 Eger 5. Széchenyi str. | Tel.:36/421-330 | e-mail: eger@egyhazmegye.hu
< back