SPORTS MUSEUM EGER
#ARTICLE_DATE_LETREHOZVA#: 21 February 2013 | Created: 12 June 2015
Visit us and be proud of those Hungarians who have already proved!
Those visiting us can take a time trip – on three floors and in 12 rooms –in the local, Hungarian and universal sports history.They can admire the objects collected by dr. Ferenc Székely, founder of the museum. The displayed relics, publications, photos and other documents revive well-known and successful sports people of recent and distant past, results achieved by swimmers, waterpolo players, combat sportsmen and ballplayers.

People interested in sports can get to know – among others – what medal was given to Hajós Alfréd at the first olympics, can follow the trend of olympic clothing, cups, medals, can meditate about the golden age of Hungarian football at the football of Ferenc Puskás, can comemorate 1956 at the holed flag and the flag with Kossuth-coats of arms, they can see the kajak of Katalin Kovács and Natasa Janics, the boxing gloves of Madár, the paddle of György Kolonics and many other legendary objects. The continuously developing exhibition is soon going to enlarged by collections of mountaineers and pentathlonists by the ideas of the new director, Rita Lázár champion swimmer.

In the museum not only mind can wander, but various games await visitors, like table football, Xbox video game, or a basketball net encourage people to check their skills.
A földszinten oktatóterem ad otthont a "rendhagyó testnevelési óráknak" és az ismeretterjesztő előadásoknak. Időszaki kiállítás keretén belül tekinthetik meg "A sport a művészetekben" című gyűjteményt.
The study room downstairs will be home of "special physical education lessons" and scientific lectures. Collection "Sport in arts" is displayed as a temporary exhibition.

Everybody is welcome in the Sports museum !
Visit us and be proud of those Hungarians who have already proved!
Why is it worth visiting the Sports Museum?
Because you can get an answer to an important question of your life: which sport is really suitable for you
Because you can learn a lot of interesting things about the flame connected to the olympics, about the first medals, the meaning of the ring sor the magic world of mascots.
Because you can have a time trip from the birth of new olympics to the fantastic victory of the Hungarian waterpolo team.
Because you can learn who Ferenc Kemény was and what was his role in setting of the global idea of " healthy body healthy soul".
You can learn who was the first to swim 100m within 1 minute in Europe.
Because you can see the ball of Puskás, the boat of Kovács-Janics golden pair, the paddle of Kolonics, the boxing gloves of Madár, olympic gold medals and torches.
Careful! In any of the rooms you can easily find idols from among the sports stars of the old or recent past of Eger.
Who would you choose? Madaras? Szécsi? Gábor Kis? oor Biros?

We have had visitors from all the continents. And you? When will you come?

The Sports museum is a possibility to spend freetime in a useful way, to have fun and to learn.
Sport Múzeum
 3300 eger Kossuth u. 9
Tel.: 30/8525-525
E mail: imari62@gmail.com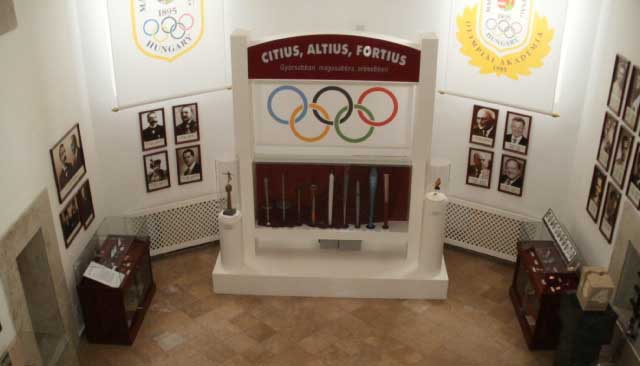 < back