Top Events
#ARTICLE_DATE_LETREHOZVA#: 22 June 2017 | Created: 22 June 2017
Whether you come to Eger to rest because you're tired, looking forward to a relaxing spa weekend, or to burn some energy in a club, doing outdoor activities and sports – whatever you do, come hungry and thirsty.
 As well as the regular festivals scheduled from spring to autumn -- classical, popular, choral and street music -- the architecture, historical sites and events, mountains, lakes and a cool atmosphere, there are quiet side streets, or vibrant bustling squares-- Eger is the place to walk, hike, dance, read, cycle, fish, soak, think, sit, listen, drink and eat.
Spring Cultural Festival
The Spring Festival is an integral part of the cultural life of Eger. Always a great and colourful selection of pop and classical music concerts, exhibitions, choral performances, theatre productions and children's entertainment. The festival this year will be held from March 15- May1st.
Egri Csillag Weekend
Also on the weekend of April 29th-30th, another of Eger's iconic wines will be celebrated at the Egri Csillag Weekend. The Star of Eger is a terroir wine, a white sister to Bull's Blood. The wine is always interesting to try because there are as many versions of this light, elegant refreshing drink, as there are wine makers. This year the festival will be held on Dobo Square (the main square), where street food and pop concerts will spice up the athmosphere.
Street Music Festival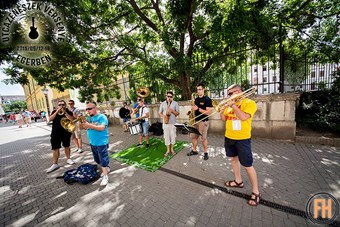 This is one of the coolest festivals in Eger. Street musicians invade the city, at least 50 bands, 150 musicians, playing five consecutive days in the charming downtown streets and squares. There is a real sense of freedom with music practically everywhere. From authentic Hungarian folk music to jazz through ska, funk and rock & roll, in various locations in the city, 12 hours a day.
For those who like to be in the middle of things, in a bubbly atmosphere, this is the place from 16th -20st June 2017. Really, it's not to be missed! There is no fixed venue, no entry fee, but there is dancing, fun and a really positive party mood.
Bikavér (Bull's Blood) Wine Celebration
Eger's largest fest runs from 6th -9th July 2017and it's called Bull's Blood celebration. This year it's the 21st anniversary. This is no ordinary festival and wine tasting. This is a happening that you can only feel properly, experience directly, in situ. The gathering, in addition to providing good music, a great atmosphere and tasting the great wines, is an opportunity to just simply feel good in the city's largest wine-gastronomic event. The venue is the charming Érsek Garden.
Useful Information
Address: Eger, Érsekkert
Email: egrihegykozseg@gmail.com
Website: www.bikaverunnep.hu
Beer Festival
Aug 12th -13th 2017: Beer Festival will be held the Agria Park Shopping Centre. It's an opportunity for enthusiasts to try artisan and premium beers. As well as the beer tasting, this free event includes stage shows and pop concerts, creating a great atmosphere.
Useful Information
Address: Eger, Törvényház utca 4.
Castle Festivities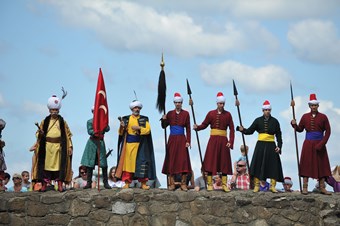 Between August 11th and 13th 2017, at the Castle Museum, you can see the glorious and epic 1552 defence of Eger re-enacted. This date is not only a source of pride for Eger; it also plays an important role in Hungarian history. This was the year that Hungarian soldiers stopped the advance of a Turkish invading force, 30 times larger. The Castle Festivities also include a demonstration of historical weapons, traditional troops, and military parades of the time. You can find activities for all of the family here.
Useful Information
Address: Eger, Vár 1.
Szimfonic Live
The Founding of Hungary as a nation state is celebrated on August 20th. This is always a special evening with something for everyone. Held on the renovated Dobó Square, the "Szimfonic Live" is a large orchestral performance of nationally and internationally well-known melodies. After the concerts, the festive fireworks begin, followed by a midnight street party.
Eger Castle Day
The István Dobó Castle Museum each year organizes Eger Castle Day on October 17th. The commemoration pays homage to the heroic defence of the castle in 1552, when a small number of Hungarian troops, under siege and vastly outnumbered, repelled the repeated attacks of the Turks. A little impromptu time travel is possible. On the day, you can walk among soldiers in period dress and watch re-enacted battle scenes. Children can dress up as 16th century soldiers. The scenery helps recreate the era so well it might encourage the adults to let their inner child out to play.
Useful Information
Address: Eger, Vár 1.
Advent in Eger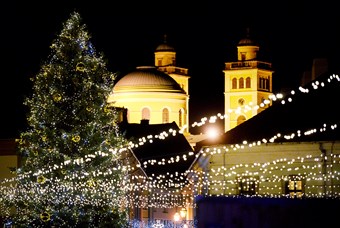 Eger is Nr.1 destination in North Hungary, and during advent it is even more attractive, as the town transforms into a fairytale world.

On the main square - Dobó square - there is a Christmas Market with huts. You can find here:

- delicious hot wines with interesting flavours,
- local street food goodies, such as the roll shaped sweet treat 'Kurtosh Kalach',
- and the classic Hungarian pies topped with bacon and soured cream, onion.
During the 28 days of the Market there will be 100 bands performing their own shows paying tribute to John Lennon, Frank Sinatra, Keith Richards, James Brown and Zoltán Kodály. During their concerts Christmas songs will be heard as well.

Beside the cultural and culinary experience, explore the local craftsmen's products on the main square and in the nearby shops.
Join us to Eger and feel the festive vibes!
Useful Information
Address: 3300 Eger, Dobo ter 1
Email: eger@touriform.hu
More Info: Open: Dec 1 -24, 2017.
Website: www.egeradvent.hu
< back