Bitskey Aladár Indoor Swimming Pool
#ARTICLE_DATE_LETREHOZVA#: 21 February 2013 | Created: 19 October 2016
Bitskey Aladár Indoor Swimming Pool is unique in Europe, due to its wooden structure and special architectural solutions and has hosted many famous sporting events.
The swimming pool is the base of Waterpolo Club of Eger, priding itself with otstanding players, like Péter Biros and Zoltán Szécsi three-times olympic champions or world champion Zsolt Varga. Men waterpolo team won Hungarian national waterpolo championship in 2011 and has won Hungarian cup three times. Women waterpolo team has got their results as well: Dóra Antal, Edina Gangl and Dóra Czigány were members of the waterpolo team having won a 4th place at London Olympics 2012, and the Eger team won Hungarian waterpolo championship and Hungarian cup the first ever.
The needs of athletes and other guests are served by a swimming pool with a surface of 1000 m2, a practice-pool and a jacuzzi. Apart from all these there is a gym, a beauty centre, a café and a playhouse for kids in the building.
Prices and opening hours can be found on site: www.egertermal.hu.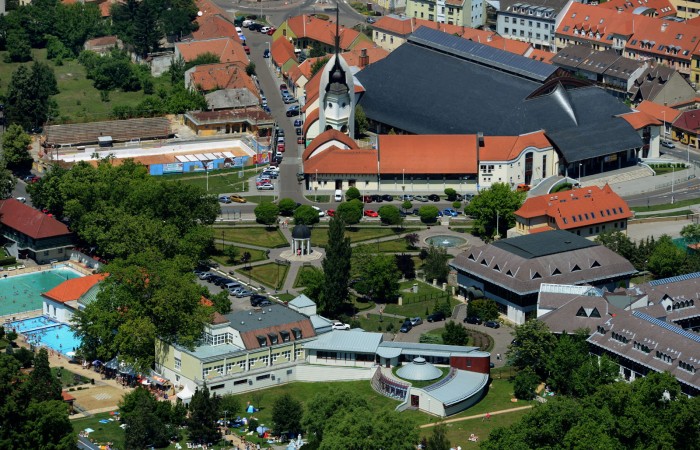 A Bitskey Aladár Swimming Pool from birds'eye view – taken by: H. Szabó Sándor ORFK
< back