Turkish relics
#ARTICLE_DATE_LETREHOZVA#: 26 March 2013 | Created: 02 April 2019
The town has prserves several relics of the Turkish times.
One of the most outstanding constructions is 40 meter high minaret which was built during the Turkish occupation, at the beginning of 17th c. and which is the northenmost minaret in Europe from the Ottoman times.97 spiral steps must be climbed to be able to admire the wonderful view of the town.
The first bath building was built by the Turks in the first decades of 17th c. Valide Sultana steam bath from the Turkish times is opposite the entrance of the castle.
The first room of the bath was the square shaped changing room with cabins to change clothes. From here the guest entered the heated hall through a revolving door and then to the hot steambath where air was 30-50C. When his body was hot enough and he had enough of relaxation he signalled the servant who soaped, then scrubbrd the body with the help of a goatskin glove and had him bathed. The guest then visited the steam bath or the depilation room. Finally he returned to the changing room where meeting his friends had a chat over a cup of coffee.
Once upon a time there lived a prophet, Mohamed.
Mohamed thought that regular washing improves fertility and as he wanted a lot of followers he ordered them to go to  the bath and get washed at least once a week.
There lived also a Turkish pasha, Arnaut, who had a beautiful gold domed bath built where religious Muslims coult have a bath and a chat. This fantastic bath is still standing and awaits guests with six pools and high-level wellness and curative services.
In the Turkish Bath the curative water having radon content spouts at three places, - in Turkish pool, Mirror pool and Bubbling pool (having got the name from the bubbles rising from below) - from under the pebbles covering the bottom of the pool. apart fromthem there are three more pools in the building having up-to-date relaxation elements.
Curative effect of Turkish Bath is thanks to its radon content which has inflammation decreasing effect, increases endorfin production of the body thus impoving wellbeing. Ionising radiation also helps regenerating processes of cells.
Beauty, health and tradition – that is what Turkish Bath can offer its visitors.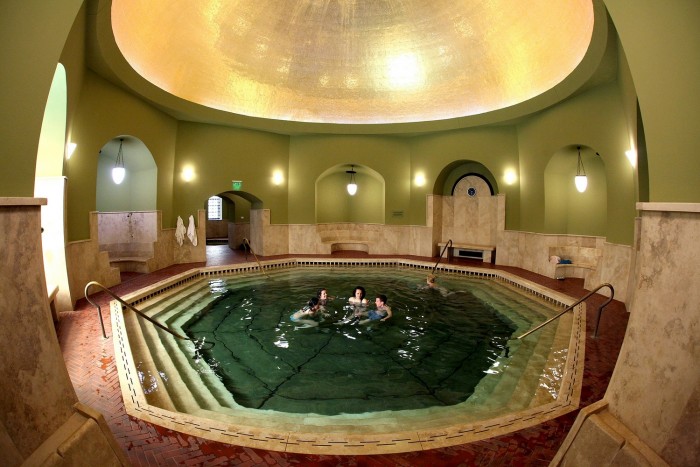 < back