Eger Thermalbath – The ageless relaxation
#ARTICLE_DATE_LETREHOZVA#: 21 February 2013 | Created: 19 October 2016
The Thermal bath of Eger was opened in 1932. One of the nicest park baths of Hungary is waiting for the visitors who want to get recovereded, to do sports or just to have fun in a beautiful green area.
The water centre just some minutes off the city centre has 7 pools, sportsfields to offer and direct access to the Turkish Bath.

Sports fans are offered ideal place for swimming by the covered swimming pool in winter, which is open in summer time. The big pool of 28 C with a hint of radon content and the 37 C thermal pool with sulphur are popular with elderly people and those need recovering.
Kids can have unforgettable experiences in the pool with a water castle to fight their "water battles". Young adults can relax in the two-domed half-open entertainment pool offering 14 different aquatic recreational facilities.
We can duely say that Thermal bath of Eger is a great destination for the whole family, so we suggest you should try it yourself!
Pools:
3 medicinal pools with radon
1 thermal pool
1 half-opened entertainment pool for adults
1 entertainment pool for children
1 swimming pool
1 water massage with curative water of radon content
From August 2013 more services will be available for our visitors: baby pool, waterslide park and a bathing house.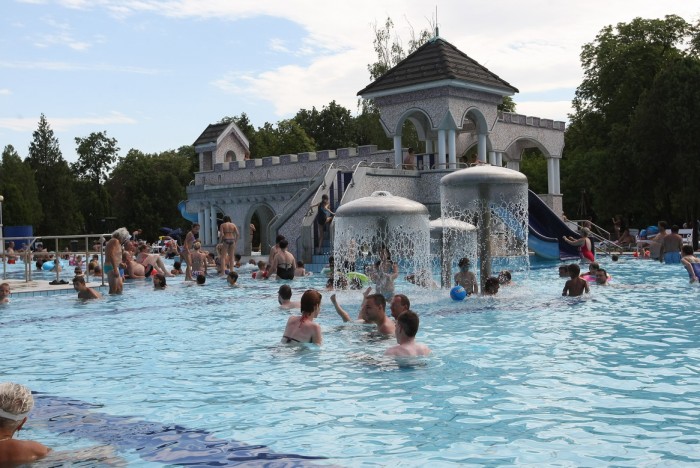 Contact:
Török Fürdő: Hungary – Eger, Fürdő u. 3-4.
E-mail: torokfurdo@egertermal.hu | Tel: + 36 36 510-552 ; + 36 36 510-553
Egri Strand és Termálfürdő: Hungary – Eger, Fürdő u. 3-4.
E-mail: info@egertermal.hu | Telefon: + 36 36 510-558 ; +36 36 510-559 | www.egertermal.hu
< back